The Genesis Framework and WordPress CMS
The fundamental coding behind the Genesis framework is what gives it its high performance and unique value, that can be enjoyed by both experienced web designers and developers as well as hands-on business owners. The architecture is built with SEO considerations and supports features useful for search engine results such as Schema.org micro data.
Genesis Open Source
As an open source project, developers can delve deeper into the coding, and make customisations for their own web development projects. However, for general use, no coding skills are required. You can immediately start with a StudioPress Theme built for the Genesis framework and confidently build layouts using Gutenberg, the default WordPress editor, or even some of the recommended web page builder plugins. 
Can I use a WordPress Page Builder with the Genesis Framework?
Fortunately most of our favourite WordPress page builder plugins such as Divi, Beaver Builder, Elementor and Thrive Architect, can all be used with the Genesis Framework or a Genesis Template in some way. If you insist on even more control over page layout customisation, a page builder plugin will also provide you with templates in order to make the process even faster.
However, if you are starting with Genesis from scratch, there are some useful things you might want to know before committing to a specific web page builder and whether you actually need one or not.
There are many StudioPress Child Themes to choose from, plus if you happen to have absolutely no coding skills you'll find the Genesis Design Palette Pro a pretty handy tool to know about.
StudioPress Themes for the Genesis Framework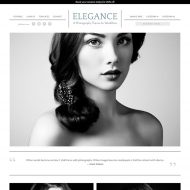 Elegance Pro Theme - $129.95
If you're looking for refinement and a polished presentation, your search is over. Elegance is a graceful theme for smart, sophisticated businesses. You'll love the large images and stately typography in Elegance. It's feature-rich and easily customizable as well.

Includes the Genesis Framework
Includes the Elegance Theme
Unlimited Updates, Support & Sites
Access to Detailed Tutorials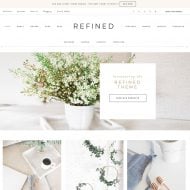 Refined Pro Theme - $129.95
If you are an entrepreneur and ready to build a timeless, classic brand, Refined Pro is the perfect foundation for your business. Refined Pro allows you to beautifully showcase your photography, your content, and your products, while maintaining a simple, yet elegant, look.
Includes the Genesis Framework
Includes the Refined Pro Theme
Unlimited Updates, Support & Sites
Access to Detailed Tutorials
Is the Genesis Framework for You?
From beginner to intermediate, and of course for professional developers and designers. The Genesis framework is ideal for building any serious business mobile responsive website with the confidence that you are using industry-friendly coding in the background.
Build the perfect content marketing vehicle
A great way of thinking about the Genesis framework, StudioPress and WordPress combined; is Genesis as the security enforced frame and body of a car, whilst your StudioPress (child) theme is the paintwork aesthetics, and WordPress as the actual car. ( I quite like that analogy, metaphor, or… let's not go there!)
Anyway, ultimately, if it is lack of support and professional design help that concerns you, there are tons of community videos, tips, resource, tutorials and designers, ready and available online to help you succeed.